Blue Ribbon Program
---
CKBC is proud to put forth the Blue Ribbon program designed to help all clubs within CKBC's membership to strive to provide the best experience for their clubs and members by providing a minimum standard of club operations. This movement and program also ensures Club's are sustainable and resilient through troubled times (i.e. a Pandemic).
CKBC Clubs now have the ability to become "Blue Ribbon Standard" club in up to seven different areas. Ribbons can be granted in one or all of the seven areas. Please refer to your club's president/commodore for the CKBC Blue Ribbon Club Template available on the presidents/commodores page.
Main Objective of the Blue Ribbon Program:
The goal and objective of this program for all clubs to build resilience through operational excellence.
Why would you want to be a Blue Ribbon Club?
Parents and communities are looking for quality programming for their children. Blue Ribbon is an indicator that your Club is striving to be the best they can be.
People, communities, partners and volunteers give more time to quality clubs and organizations. Blue Ribbon is an indicator your club deserves their attention and consideration.
Other sports, and sport governing bodies admire quality organizations. Blue Ribbon Clubs will be ones with "best practices" others will want to replicate and ask advice on how to get there.
In today's competitive sport landscape, people want to be associated with the best and be the best. Blue Ribbon is an avenue to show your club off, and recruit the finest your community has to offer.
Benefits to becoming Blue Ribbon Certified:
By becoming a Blue Ribbon award winner, CKBC will for your club:
Receive an exclusive banner to put on your website and promote your club as a Blue Ribbon Award Winner.
CKBC will recognize all Blue Ribbon award winners on their website.
Offer exclusive program opportunities for Blue Ribbon Clubs.
CKBC Awards Ceremony Notice.
Be eligible for the CKBC "Club of the Year".
Be eligible to receive a refund to your yearly membership dues.
How the Program Works:
Each year CKBC will put forth the Blue Ribbon Program particulars and criteria. There will be mandatory requirements, as well as an option for Clubs to put forth development areas/ideas for Blue Ribbon consideration.
From June to September Clubs work towards the criteria and submit to CKBC as part of submission process.
CKBC will verify the submissions and that criteria has been met.
Each year at the CKBC Annual General Meeting, CKBC will announce the Blue Ribbon award winners.
From October until the following September, Clubs will be able to use their Blue Ribbon status as part of the promotion of their clubs.
Each season the Blue Ribbon process starts over.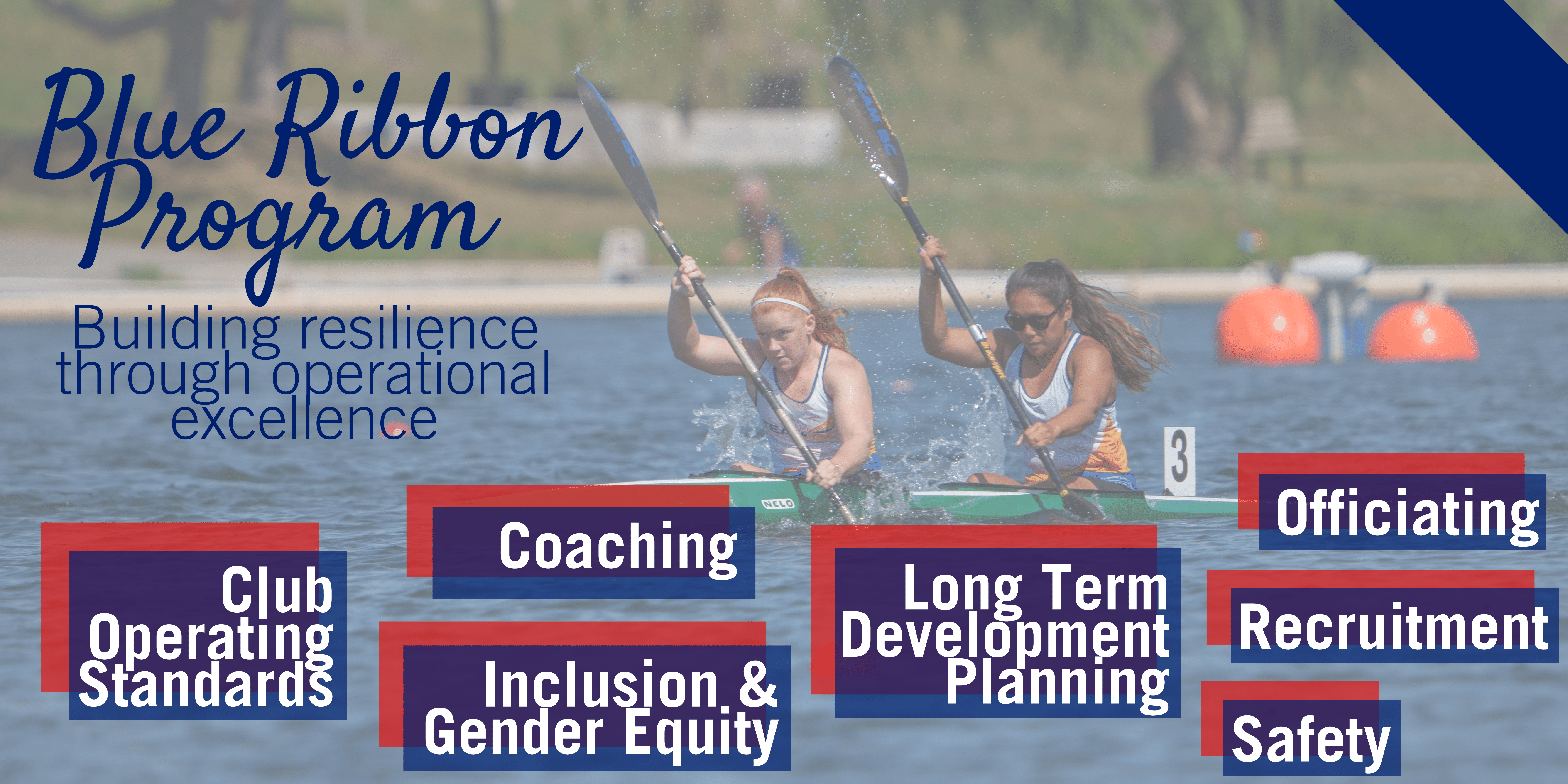 Program Adjudication:
In October each member club will be evaluated based upon the seven areas of the Blue Ribbon program. Member clubs that have met Blue Ribbon standards will receive a refund of up to $200.

3 Blue Ribbon Standards met = $100
4-6 Blue Ribbon Standards met = $150
7 blue Ribbon Standards met = $200
Variance Requests Process - As CKBC is a multi-discipline organization there are going to be varying degrees of standards for each Blue Ribbon category. For example, a club may not employ a coach. If this is the case, the club may apply for a variance explaining why they are applying for a variance. All variance requests must be applied for in writing by the club's President/Commodore through the Blue Ribbon Program application form and will be adjudicated by the CKBC Blue Ribbon Committee.
To find out more about the CKBC Blue Ribbon Program view the full report or contact blueribbon@canoekayakbc.ca.